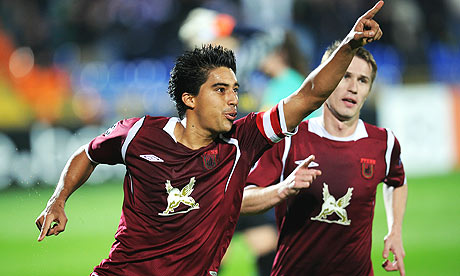 Rubin captain Noboa scores against Barcelona (guardian.uk)
If someone would have told you that Zenit, CSKA, Rubin and Spartak would be the top four teams in Russia back in March, it would have been an easy statement to accept. The only part worth debating, is which order would they finish and who would be the team left out of the Champions League.
After Week 23 of Russian Premier League action, the cream has indeed risen to the top of the league. Each club is not only distancing itself from the rest of the domestic field, but setting itself apart in UEFA competitions as well. No matter how differently each of the four clubs have gone about reaching the top, the European spots from Russia look to be going to the same teams as last year.