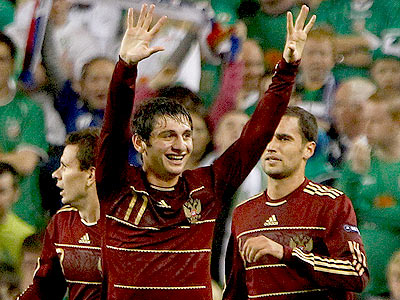 CSKA's Alan Dzagoev scores his first international goal (championat.ru)
New manager Dick Advocaat's run with the Russian team has not exactly gone according to plan so far. An unconvincing 2-0 win over Andorra to begin Euro 12 qualification followed by a horror loss at the Lokomotiv Stadium to Slovakia has given fans and players alike more than enough reason to be concerned. But looking to quickly erase all memories from a month ago, the Sbornaya hit the road for a 1,700 mile journey across the European continent to Dublin.
Facing them would be an Irish squad who had been playing with chips on their shoulders the size of Ireland itself since being denied a handball against France. The Sbornaya would be without star striker Roman Pavlyuchenko, so Aleksandr Kerzhakov would be able to rejoin the national team.
However, the Sbornaya was unfazed by the green-clad Aviva Stadium and repelled an early wave of Irish attack, lead by new Spartak Moscow man Aiden McGeady. However the Sbornaya was having none of it and quickly broke on a counter-attack, earning a free kick in dangerous range. Taken by captain Andrei Arshavin, an initial attempt on goal was foiled but an incredible bicycle kick by center back Sergei Ignashevich set up white-hot Zenit man Aleksandr Kerzhakov for an easy finish.
1-0 to the men in red.
The assault hardly ended there. Urged on through aggressive midfield play by Arshavin, Roman Shirokov and Alan Dzagoev, the Sbornaya continued to find holes in the Irish defense, playing ball after ball out wide only to find acres of green grass awaiting.
Zenit captain Aleksandr Anyukov was one of many players to enjoy the Irish pasture down the right side, conveniently vacated by Sean St. Ledger. Taking a beautiful pass from former teammate Arshavin, Anyukov burst into space and delivered a goal-scorers dream ball into the middle. 20-year-old CSKA midfielder Dzagoev was the beneficiary, and clinically hammered it past Shay Given for his first career international goal.
Pure jubilation for the Sbornaya, 2-0!
A near disaster only minutes later almost wrecked the momentum, as Igor Akinfeev caught the ball seemingly right on the line, but the Dutch referee saw nothing worth his time. Following Akinfeev's heart-stopping moment, Dick Advocaat's men had done the damage and seemed content enough to relax until halftime. Russia finished the first half not dominant, but certainly the better side. Igor Denisov of Zenit and St. Ledger of Preston North End received bookings for their troubles.
The Sbornaya began the restart as lively as ever, once again looking to exploit the weak Irish flanks, with both Anyukov and Chelsea left back Yuri Zhirkov making daring runs. It was Anyukov at the center of the offense again however, as he picked teammate Shirokov out for a run on goal. The surprise inclusion fired what seemed like a harmless shot from 20 yards out, but it took a gigantic ricochet off the leg of Richard Dunne, catching Given flat-footed. Goooooal?! As the fans say, Vpered Rossiya!
3-0 to Mother Russia and surely all three points as well.
No manner of luck at all for the Aston Villa defender or Ireland. Irish manager Giovanni Trapattoni had seen enough, and tried to breath some form of life into his otherwise sleepwalking squad. Shane Long, Darron Gibson and Keith Fahey all came on within several minutes of each other, while Dick Advocaat decided to give veteran Konstantin Zyryanov a rest in favor of Igor Semshov. But with one fell motion, the Dutch referee managed to revive a match that was dead and buried.
Tottenham striker Robbie Keane charged into the box and in the process of controlling the ball for a shot, stumbled to the ground. The referee immediately pointed to the penalty spot to the joy of the Irish supporters, with the foul going against Zhirkov. Except there was only one problem with the decision – Zhirkov was several feet away from Keane and made no contact whatsoever on the play.
But the referee heard none of Yuri's protests and Keane converted the penalty with a clever stutter-step that fooled Akinfeev. Maybe the Irish are lucky indeed. Giovanni Trapattoni was not born on St. Patrick's Day for nothing.
With the penalty, Ireland jumped back into life along with the crowd of 50,000 strong. Before Advocaat even knew what happened, the Irish had made it a one goal game. Keeper Shay Given had come all the way out to midfield to take a free-kick, fired it in and McGeady forced a great save by Akinfeev. The Sbornaya however could not clear it away from danger as the ball bounced around off several players in the box before substitute Long deposited a shot past #1. As unlikely as it seemed 10 minutes before, through luck or no luck, the Irish comeback was in full force.
Playing with a far higher level of concern, the back line of Ignashevich, Zhirkov and company began clearing every ball on the spot, in an attempt to waste the clock and keep the Irish from finding an equalizing goal. As time disintegrated off the clock, near misses from both sides stole the breath of nearly everyone inside. First by McGeady, who missed by mere centimeters quickly followed by substitute striker Pavel Pogrebnyak, who missed a wide open net from 10 feet away. But with one last free kick by Ireland, the referee finally signaled an end to the madness some five minutes into stoppage time.
Russia was victorious, giving Advocaat something to smile about after all. Tri-dva.
It will be a happy plane ride back to Moscow after all, and now the Sbornaya have four days before facing Goran Pandev and Macedonia in Skopje.